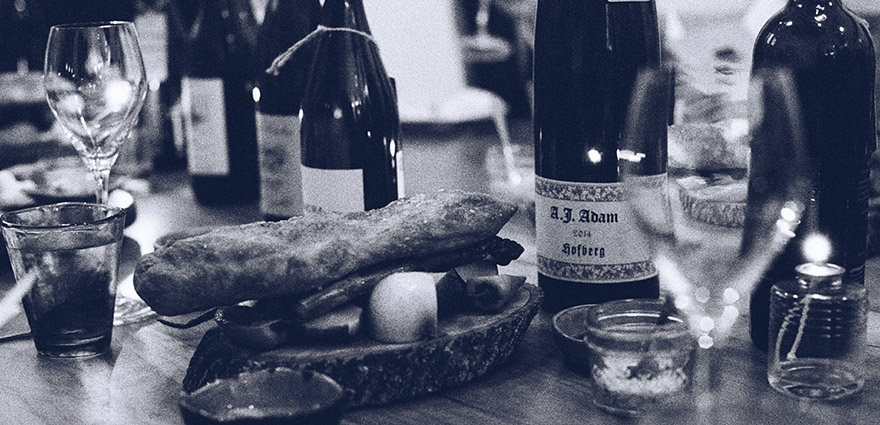 Sea-Wines Discovery
Do you want to be surprised by the unknown with wines aged in the salty underwater depths ?
Let you taste buds savor the amazing flavors developed through the ocean. You won't need any wetsuits, these treasures hidden under the sea will be for this time located in a warm environment, around a table, for an early spring evening. Instead of finding seaweed and seefood only in your plate, you will also contemplate them on the wine labels.
Tasting of several wines characterized by their history, a maritime difference… Whether very fruity or more firm and structured, in all cases, they will have been immersed with fishes, in a salty and infinite barrel : the Atlantic Ocean.
Making the wines more digestible and accessible, this marine bath reveals a clear sensation of freshness and will seduce you with authentic aromatic flavours.
From an ethical point of view, these marine conditions allow to keep the wines under appropriate pressures, luminosity and temperatures without investing in a technical equipment with a contrasted energy balance.
We will unveil you all those secrets during this evening, for sure in a cozy atmosphere and accompanied by some salty delicacies.
Two to three hours are scheduled for the experience.
After this evening, will you also thrown out your bottles into the sea ?
A MAXIMUM OF 8 PLACES AT THE SAME TIME
20 % OF REMAINING PLACES
This experience has been viewed more than 200 times.
Let guide you, the experience promises you relaxation, comfort and emotion. Alone or with your family, good time ensured.
surfing skills are not required
Several wines to taste accompanied by some homemade delicacies
The wines of French origin are selected according to quality criteria
The wines presented have all been immersed in the Atlantic Ocean
The evening will take place in a cozy apartment ('gezellig', as locals often say) with this typical Amsterdam facade.
For this spring weekend, it can still be fresh outside, a waterproof jacket and pullover might come in very handy to join us.
The meeting place is located next to the mythical Amstel River, in a small street without traffic, close to the famous Prinsengracht canal, and also not far away from the Pijp, the very trendy district of the moment !
The exact address will be revealed once your reservation confirmed.
Passionate about surfing but also about wine, he will know how to accompany you in these taste pleasures.
Languages spoken : French, English, Spanish.

We will collaborate with innovative and endearing winegrowers / winemakers.
A small oenology course on 'which terroir gives to the wines their character and their originality' will be given during the tasting.
Several wines to taste accompanied by some homemade and salty treats.
Just remember to leave your car at home. Even if we will drink in moderation, considering it is wine, it is always better if you come on foot, by bike or by public transport (numerous and very well organized).
MANON

SESSION CHILL • Februari 2018

Deze winter heb ik deelgenomen aan een proeverij van kustwijnen en -eten. Christophe weet zijn passie hiervoor erg goed over te brengen. Op papier misschien een klassieke proeverij maar in realiteit vond ik het werkelijk een unieke ervaring. Een absolute aanrader!
25 €
All taxes included / Person